Underground Locating and GPR
Ground Penetrating Radar (GPR) technology has emerged to become a valuable and reliable tool to investigate, locate and map subsurface infrastructure. Understanding what is beneath the surface in materials like concrete, soil, rock, snow and ice leads to informed decision making. GPR is portable, non-destructive, precise, inexpensive and suitable for a variety of materials with high resolution imagery.
Detection Services experience to locate underground utilities for the country's major service providers spans over 20 years. Now servicing the largest three centres Auckland, Wellington and Christchurch, we pride ourselves in providing non-destructive, accurate location and depth information designed to assist our clients performing underground work around crucial services.
The correct use of these non-destructive technologies can save utility owners large costs in rebuilding and repairing services damaged by improper excavation techniques. Additionally, ensuring the safety and wellbeing of excavation and drilling crews against the very real risks of damaging dangerous utilities such as high voltage power lines, high pressure gas lines or fuel lines, critical telecommunications and water services.
Having access to multiple underground locating technologies available simultaneously, which can include GPR, Radio Frequency (RF) Pipe and Cable Locators, Electro-Magnetic Profiling Locators, metal detectors etc, we can build the case for utility locating surveys to be performed before any destructive work/investigations are started.
This wide variety of underground locating technologies can confirm what was previously found as well as discovering new utilities which might not be present on available plans. Each one of these non-destructive/non-invasive technologies has its own specific features and benefits providing a more reliable method of ensuring that all practicable steps have been taken to locate and identify all buried services within the area to be disturbed.
Data collected from underground locating equipment ensures proper clearance for construction workers, utility crews, professionals and homeowners who may be planning on excavating, drilling and/or performing any changes to the subsurface that may affect buried services.
No matter what type of service — from water or gas, sewage or power, telecommunications or storm-water, from plastic to metallic or ceramic,  we employ state of the art Electromagnetic and Radio pipeline and cable locators as well as top of the range multi-frequency Ground Penetrating Radars (GPR), to provide our clients accurate underground information, either for avoidance purposes or for accurate 3D mapping and integration into their GIS systems.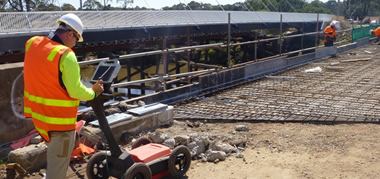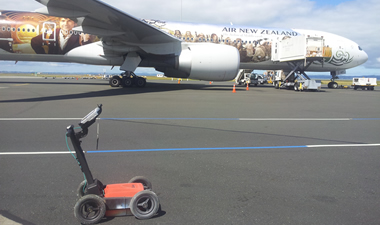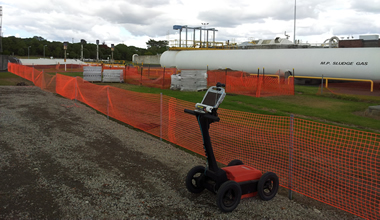 Detection Services employs state of the art, handheld Concrete Penetrating Radars which detect minute fractures, voids and imperfections within a concrete slab. This technology accurately measures slab thickness as well as locating and mapping the reinforcing steel structures within a concrete slab, beam or column.
Our experienced technicians have been part of some of the biggest construction projects in the country, such as the Newmarket Motorway Viaduct Replacement project, maintenance works on the Auckland Harbour Bridge and a myriad of jobs within the earthquake affected Christchurch area. The information we provide structural engineers, designers or anyone just wanting to drill or cut through concrete is essential in the analysis, maintenance and design of better and sturdier concrete structures in New Zealand.
Do you only need your reinforcing bars located before you drill? That's fine too, no job is too small or too big for our Concrete Penetrating Radars. Ground Penetrating Radar (GPR)  technology is completely non-destructive and will provide high resolution information on location and depth of any steel structures/bars, precise concrete thickness, voids, cracks, and it can penetrate through as much as 500mm of concrete/asphalt etc.
Ground Penetrating Radar (GPR) encompasses a multitude of additional functions other than the typical utilities and concrete applications. Whilst Detection Services usually employs this technology for locating underground utilities or storage tanks, GPR is relevant in a variety of fields.
We employ the latest dual-frequency antennas for utility detection with superior resolution at both shallow and higher depths — from large low frequency antennae suitable for deeper archaeological and geophysical analysis through to tiny handheld Concrete Penetrating Radars and everything in between. Our range of assignments include surveying the bottom of ponds and shallow lakes, looking for buried mine shafts, ice crevasse detection, locating tree roots, forensic investigations and surveying old cemeteries for buried locations, just to name a few.
Another prominent use for GPR is the locating of underground cracks and voids whether they are a few inches or a few metres under the ground. This has been a preferred application for GPRs particularly in earthquake prone areas like Christchurch.
GPR applications and solutions include:
Utilities
Archaeology
Ice mapping
Leak detection
Void detection
Sediment profiling
Mineral deposits
Cemetery surveys
Geological surveys
Forensic investigation
Mine and tunnel inspections
Condition assessment of pipes
Airport runways and taxiing areas
Road base investigations and audits