Innovation is the ability to see change as an opportunity
If we've learned anything it's the importance to be ready to face rapid change and adopt new technologies. At Detection Services we invite you to lean into innovation, creating new opportunities to foster excellence in water management and tailor solutions to circumstances.
Technology today is evolving at a rapid pace, with advances transforming how large commercial businesses and utilities operate. Gone are the days of business as usual, with advances in new technologies now allowing movement from 'reactive to proactive'. This allows for a risk based approach to evaluate capability, improve performance and focus on a goal to future proof networks.
At Detection Services we leverage deep industry insights and functional expertise to deliver state of the art technologies that allow for more informed decisions. We pride ourselves on our ability to work within highly regulated environments, while also offering the flexibility to respond to changing site and network requirements.
We acknowledge that while the end product is important, the journey is integral to the overall success of a project. We adopt a whole life cycle approach with advanced, accurate water and wastewater solutions and technologies to extend longevity of infrastructure and pipeline assets while offering a range of water loss management strategies, risk management and renewal planning strategies.
In this evolving world, technologies need to be flexible and multi-disciplinary. Our team of professionals has the tenacity and technical ability to tackle complex projects combined with a genuine desire to understand and work with our clients to realise their vision.
At Detection Services we embrace innovation with intelligent control.
Geospatial Technology — Evaluate and safeguard asset integrity and reliability
IoT Development — Solutions offering new ways to provide operational efficiencies
SMART Networks — Real-time monitoring of critical parameters within the network
Artificial Intelligence — Remote sensing and data science to identify anomalies and predict failure
Knowledge Hub — Providing analytics to connect data insights to manage risks and provide actionable intelligence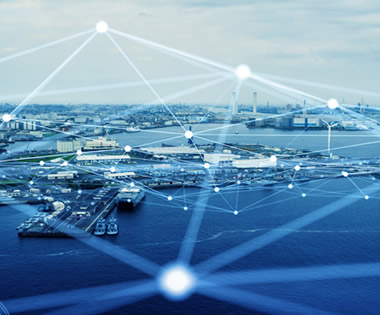 Today's world is changing faster than ever before, it's a complex race with technologies and solutions emerging that revolutionise the approach to water management and answer the ever changing needs of empowered customers. At Detection Services we innovate to meet these challenges by providing technologies backed by forward looking data and analytics teams that are pivoting from traditional delivery techniques.
The Detection Services 'SMART Detector Scooters' are a synergy of sleek design combined with advanced technology and provide the ability to adapt quickly to new and evolving field conditions. Our range of SMART Detector Scooters focus on rapid response to seamlessly integrate people, process, data and technologies while providing digital connectivity ensuring security, accessibility and value.
At Detection Services we never take the easy road. Our SMART Detector Scooters are a direct response to actively listening, refining and supporting our clients' — a deliberate and focused process that has enabled us to deliver performance and value. SMART Detector Scooters provide a whole new approach for leak detection and condition assessment combining a range of technologies.
SMART Detector Scooters are mobile, compact and eco-friendly with a quick battery charging life allowing us to access and deliver services up to 3 times faster. When coupled with a tablet or phone we are able to program routes to seamlessly navigate between assets or hardware, such as loggers or artificial intelligence (AI) Bugs, whilst also constantly tracking the operator for added safety and efficiency. They are supported by our 'Knowledge Hub' with 24/7 data analytics and are ideal for operating in our clients' opportunity zones. This initiative is part of our journey to Net Zero and de-carbonising what we do.
The ability to adapt to change, evolve with our clients' and innovate with the latest technology and solutions is what defines our achievements. This innovation focus allows us to contribute to new opportunities that answer the unprecedented challenges from rapidly changing delivery demands.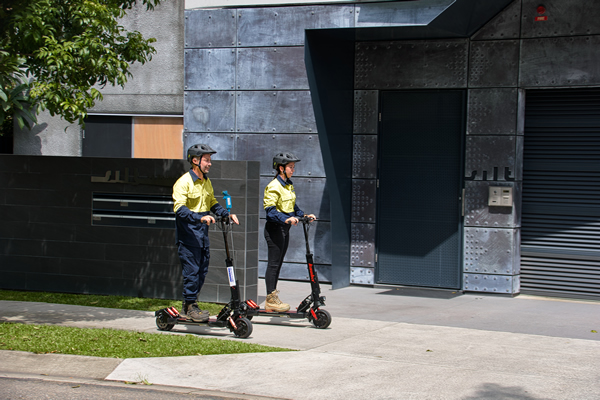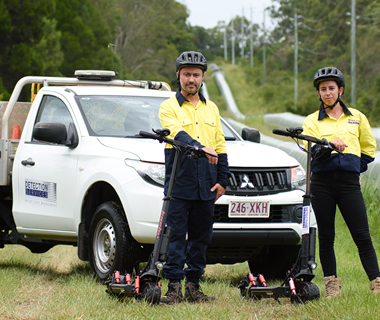 In today's high volume data flow and real time analytics, data collaboration is the next step in visibility. The Detection Services 'Knowledge Hub' fundamentally changes the approach to asset and network management. The Knowledge Hub is not a single technology but rather an architectural approach that unites data integration and orchestration tools to identify weaknesses and strengths within the network. It provides a powerful, unified data platform that can process transactional, analytical and unstructured data in real time.
The Knowledge Hub allows for 24/7 communication between our state of the art technologies, clients networks and field teams providing visibility with fast access to critical insights and constantly shifting network patterns as they occur. Some events are critical to action in real time like flow variations or pipeline corrosion while some events need to be evaluated and actioned over time like continuous fluctuations in pressure or to support predictive maintenance. One of the key features of the Detection Services Knowledge Hub is the ability to work with all data across a complex distributed landscape to identify these events and provide greater efficiencies and processes.
Solving today's and tomorrow's challenges from addressing water loss to network monitoring and asset management, requires greater access to data and innovative collaboration to provide value. At Detection Services we work together with our clients to create transformative solutions and provide tangible outcomes. By fostering this level of transparency, combined with communication and collaboration, the Knowledge Hub allows our clients to increase agility and predict outcomes to drive better business decisions.
Real-time Network Intelligence enables our clients' to minimise risk and retain control.
Critical asset monitoring
Network resilience testing
NRW strategies and implementation
Trunk main monitoring and analysis
Multi parameter water quality monitoring
Leak detection using artificial Intelligence (AI)
Smart Sensor Networks — design, maintenance and analysis